Culp Custom Studio allows designers to fully customize fabrics for window treatment and soft good projects easily and affordably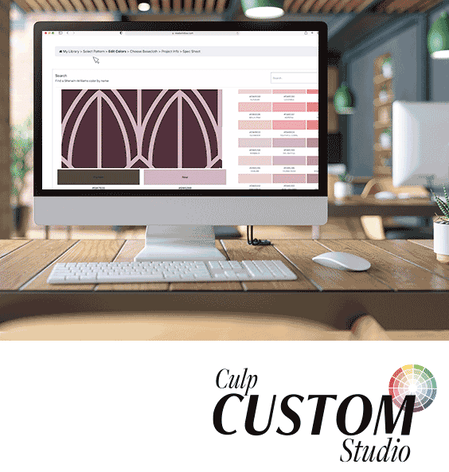 KNOXVILLE, TN (August 26, 2021) – Read Window Products, LLC, a trusted full-service window treatment fabrication and installation company, has introduced a new digital design platform that will allow designers to create fully customized fabric patterns for window treatment, soft goods and upholstery projects. Culp Custom Studio allows users, once registered, to choose from a large selection of proprietary fabric patterns and modify all color layers of a pattern to make it uniquely their own. The best part? All created fabrics cost less than $20 per yard – 100 yard minimum required to order – and ship within weeks.
"Fabric affordability and availability, particularly now, are very important to the designers we work with," says David Wells, senior vice president of sales for Read Window Products and Culp Hospitality. "The Culp Custom Studio platform gives designers ultimate design flexibility by allowing them to literally customize every color layer of any of our available fabric patterns they may want to specify for window treatments, soft goods or upholstery projects – and get it very quickly."
Today, the platform includes more than 75 fabric patterns – but new patterns will continue to be added regularly. Users can save favorite customized patterns and all work in progress for later reference. Once a pattern is completed a detailed spec sheet is created, at which point the user can order a sample, download/print the spec sheet or contact their sales representative to place an order.
"Designers love choices," says Margaret Snell, senior designer at Culp Hospitality. "Sometimes it's frustrating when you find a pattern you like but can't get existing color options to work in a particular design scheme. Culp Custom Studio changes all that by giving designers the ultimate flexibility to create something truly unique – and that won't break their budget or project timelines."
To get started visit: https://www.readwindow.com/culp-custom-studio or contact your Read Window Products sales representative to learn more.
About Read Window Products, LLC
For decades, Read Window Products, a wholly-owned subsidiary of Culp, Inc., has helped large global brands, timeshare resorts, luxury hotels, small boutique hotels and commercial properties achieve their window treatment, soft goods design and sustainability goals. We proudly offer full-service fabrication and installation services from our innovative, solar-powered Knoxville, TN workroom. From the beginning of a project through its precision installation, we are passionate about every project detail. Visit www.readwindow.com to learn more.